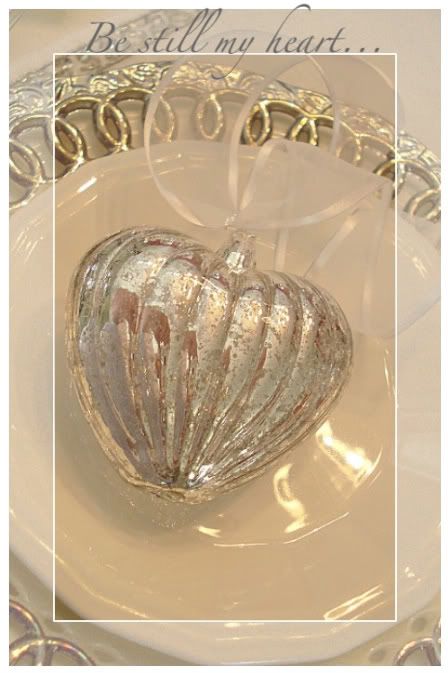 *
It's Time for Tablescape Thursday!
*
Hello my friends!
It's time for Tablescape Thursday...hosted by our very own Susan over at Between Naps on the Porch. Please go by and see Susan today along with all of the other Tablescape Thursday participants! Thank you, Susan...for giving us an excuse to play with our dishes!
*
Today for Tablescape Thursday, I wanted to share just a few snippets or ideas for an upcoming Valentine's Day romantic table for two! I hope you enjoy!
*
Be Still My Heart...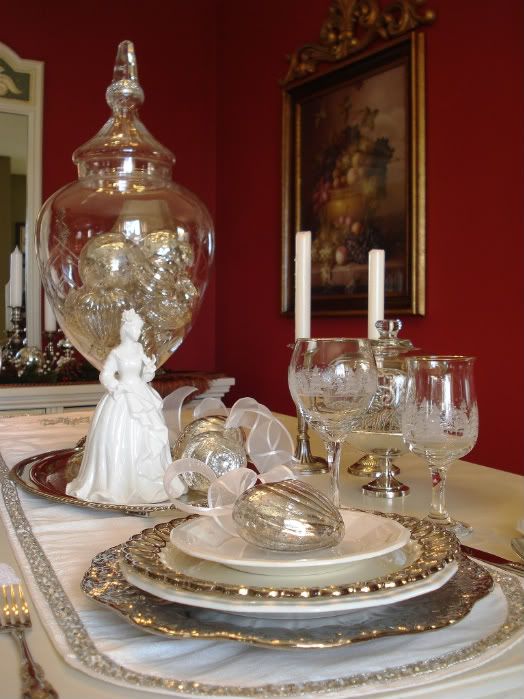 *
"Be still my heart"...an expression of excitement when seeing the object of one's romantic affections!
*
"Be Still My Heart" is a great name for a romantic Valentine's Day table for two...don't you think?
and...
It was what came to mind as I started putting this place setting together! Why just look at the creamy whites...the sparkling silvers...ahhhh, be still my heart!!!
*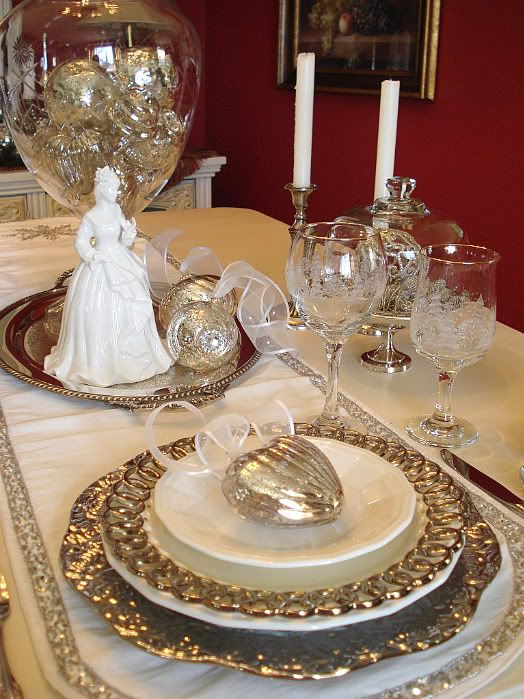 *
After putting away all the Christmas, I decided on a silver and white color scheme in my french country dining room...just perfect for a winter's decor!
I really have had so much fun playing with my collection of silver! I also decorated the dining room buffet with a few pieces from my silver collection...if you would like to see it...just click HERE.
A large apothecary beverage jar filled with mercury glass ornaments is sitting atop a silver tray for a winter's table centerpiece. I have added a few items to the winter centerpiece...a pretty white porcelain lady and a couple of mercury glass balls. It's really still in the planning stages...but I thought I would share a few snippets of what I've been thinking of doing.
*
"Be Still My Heart" Place Setting...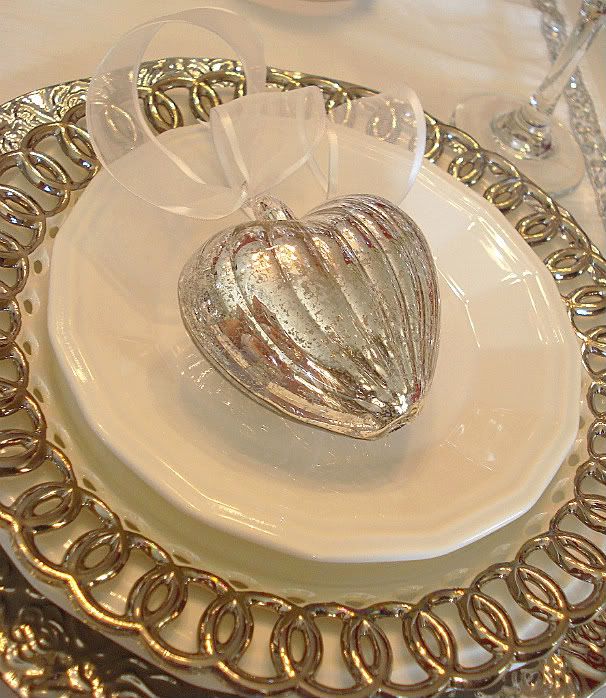 *
A multi-layered place setting consisting of:
a silver charger plate
white ironstone dinner plate
a porcelain plate with a decorative "entwined silver rings" edging
white ironstone salad/dessert plate
*
and a pretty mercury glass heart with white ribbon to top it all off.
*
The place setting is sitting on top of a white table runner with the prettiest silver beaded trim.
*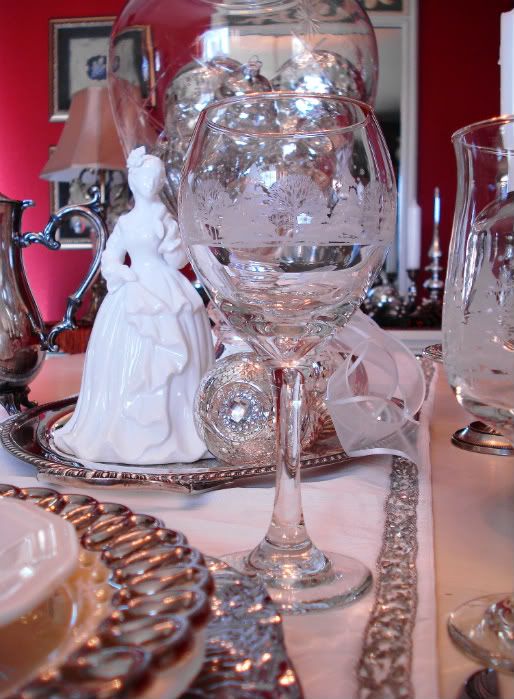 *
I decided to use two different sized goblets with a beautiful white winter scene painted on the glass.
*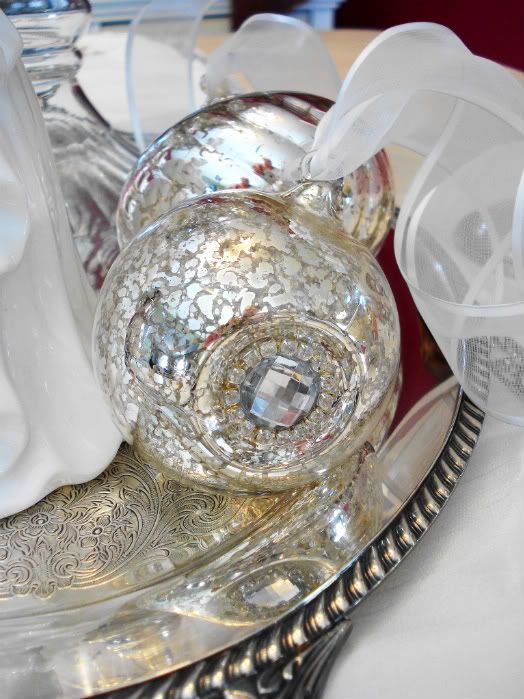 *
A close-up so you can see the details on the mercury glass balls that sit on the centerpiece tray. Ohhh...just look at the pretty sparkles!!! I love the white rhinestone design on the mercury glass. I also added white organza ribbon to the top of the balls. This was really fun...it is wired ribbon and I could curl the ribbon using my fingers! I just love how it turned out!!!
*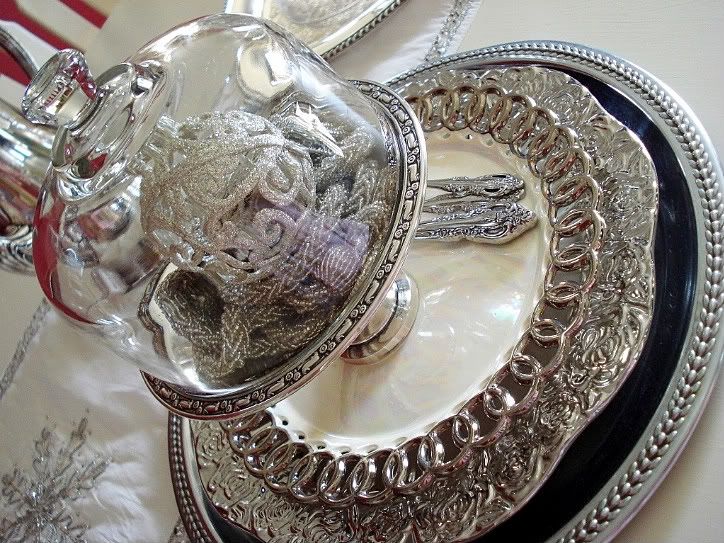 *
Ohhh no...another photo of this? Hehe! I do hope that you're not sick of seeing my silver compote with the glass dome! I just can't get enough of it!!! You can see the white porcelain plates with the "entwined silver rings" really well in this photo. Also...to the left hand side, you can see the beautiful silver beaded snowflake design that is on both ends of the table runner.
*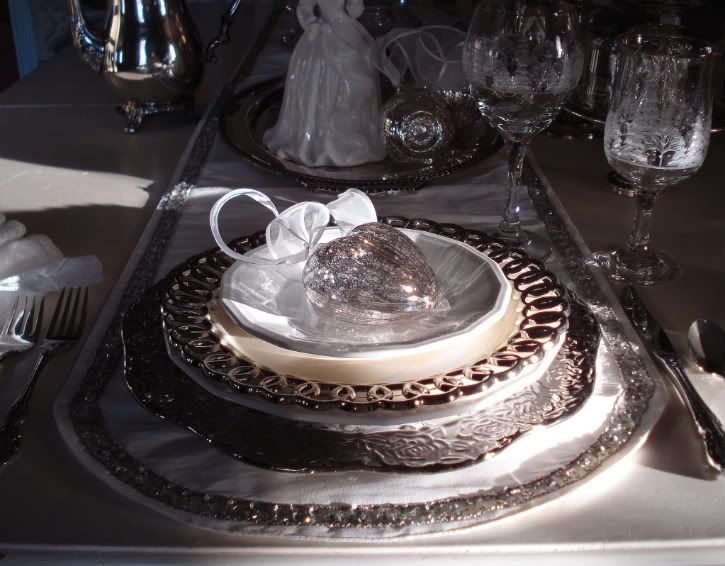 *
A few "artsy" photos.
*
You know...since I have started blogging, I have really gained a love for photography! I am just an amateur and really do not have a clue what I'm doing...nevertheless, I am enjoying it!
*
I took these photos very early this morning. The sun was just barely up but there was one little ray of light shining through the window...right on top of the plate! It was such a beautiful sight so I grabbed my camera. Of course, my photos really don't do it justice but you can get the idea. Ohhh...just look at that pretty light shining onto the place setting...really accentuating it! I loved the contrast of the darker shadows of the table against this one little ray of light that was shining in upon the place setting!!!
*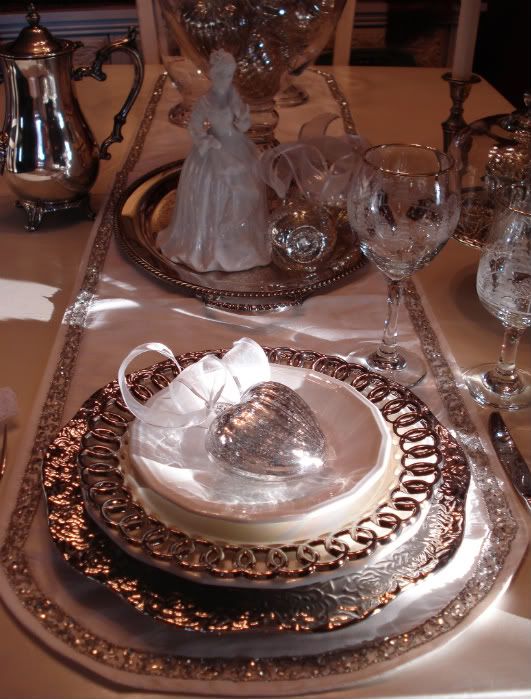 *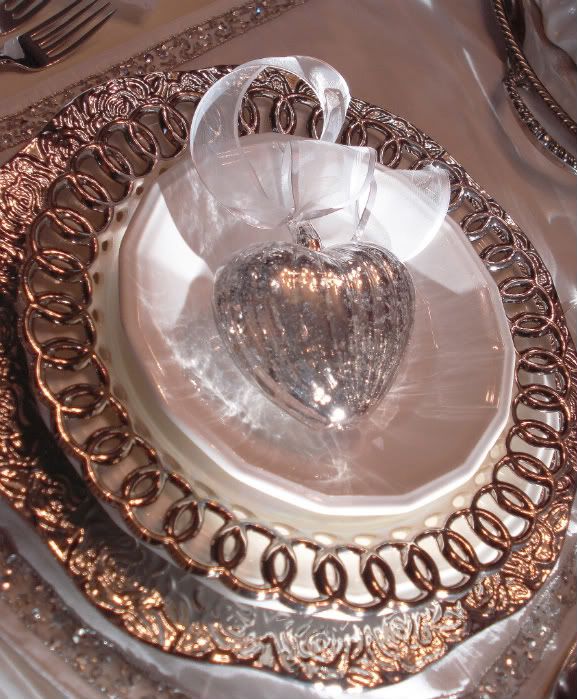 *
I thought this photo really turned out pretty with the silver from the dishes and the mercury glass heart picking up that one little ray of light! Ohhh...and I also like how the white ribbon picked up the light...soooo pretty!
*
~~~~~~~~~~~~
*
Well my friends...stay tuned! I hope to finish this "Be still my heart" tablescape in time for Valentine's Day! Hehe! I'm so glad that you came by today!!! Please leave me a comment and let me know that you were here...I'd love to come by your place for a visit!!!

*